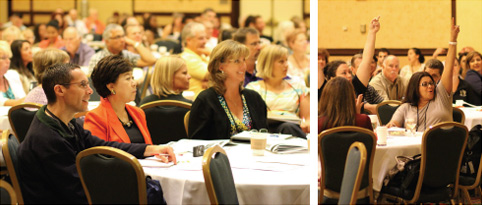 Conference Pricing
$595
First Registrant
$560
Second and Third Registrant (from the same district)
$495
Each registrant thereafter (from the same district)
Fee Includes:
All workshop presentations, panels and roundtable support
Textbooks from the Career Choices series (up to a $135 value)
Institute manual and additional resources (up to a $250 value)
A one-year license to Academic Innovations' online professional development web site, The Teachers' Lounge and www.careerchoices.com ($249 value)
Food, food, and more food! Light continental breakfast (all three days); buffet lunch and afternoon snack break (Monday & Tuesday); cocktail reception with appetizers (Monday); and plated awards luncheon (Wednesday)
Payment and Cancellation Policy
Payment: Please remember that all registration fees for Focus on Freshmen 2017 must be paid by June 30, 2017. Payment can be made by purchase order, check, or credit card (Visa, MasterCard, or American Express). If payment can not be made prior to that time, please contact us to make other arrangements.

Cancellation Deadline: Friday, June 30, 2017
Substitutions are permissible, but all changes or cancellations must be communicated to Academic Innovations in writing. Refund requests must be received in writing and postmarked by Friday, June 30, 2017.