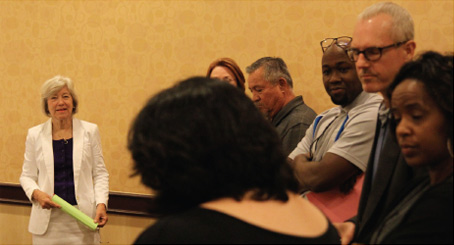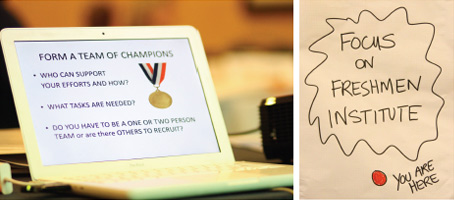 For Principals, Deans, & Administrators
Using the Course Standards for Freshman Transition Classes, developed through The George Washington University's
Freshman Transition Initiative
, learn the
10-Step Plan
for initiating a freshman transition course and implementing a school-wide program to provide data-driven advisory opportunities.
Featured in the article,
A Personalized Plan for Life
, from
NASSP's Principal Leadership magazine
, this practical system will launch your school reform efforts.
Freshman Transition Initiative founder Dr. Rebecca Dedmond provides participants with:
The tools and template to develop a comprehensive plan for their freshman transition efforts.
The necessary data and resources to generate buy-in from teachers, parents, school board and community.
A complete manual of resources that includes planning committee job descriptions, teacher recruitment rubrics, timelines, curriculum correlations, and planning checklists to name a few items.
Strategies for implementing a school-wide initiative that takes the advisor/advisee function to a new level through interdisciplinary efforts of all departments.
Who should attend:
High School or Middle School Principals
Principals along with the team of leaders responsible for planning their freshman transition and high school reform efforts
District leaders responsible for dropout prevention strategies
School Leaders responsible for Freshman Academies